Knights Battle Scratch Off Game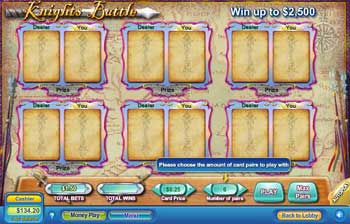 Win up to $100,000 in a Knights Battle online instant win game. In Knights Battle, it's all between you and the Dealer. To play, select your wager and the number of pairs you'd like to battle with. To win, your card has to be a higher card than the dealer's card. If it is, you win the price offered below the cards. Multiple cards can win at the same time.
Card pair prices span from $.25 to $10 each, and you can select up to 6 pairs per game. When you play with the maximum number of pairs, your wagers will start at $1.50 per game and go up to $60.00 per game. Since the jackpot pays 10,000x your wager, the more you bet, the more you can win!
The Knights Battle online instant win game is available as free instant games or real money formats. Play them both at the following NeoGame-powered casinos.