Joker Poker Online Scratch Offs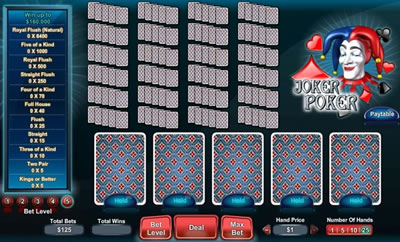 Joker Poker scratch cards, all you need are two Kings or better to land on the pay table for a win, and with the ability to play up to 25 hands at a time, multi-tasking has never felt so good! Win up to $160,000 when you land a natural Royal Flush with the Joker Poker scratch offs; instant win games using NeoGames software.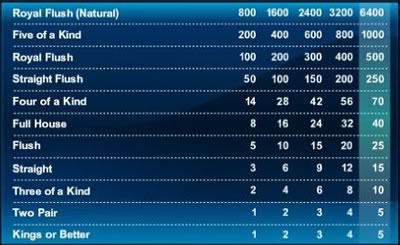 To begin the Joker Poker scratch cards game, you'll need to choose the number of hands you wish to play (from 1 to 25). Once the number of hands is selected, you can then configure your coin size, from 0.01 to 1.00 credits, and the number of coins per game, up to 5, to further manipulate your bet.
With so many variables in Joker Poker online scratch offs, the minimum wager will be 0.01 per game for a 0.01-credit, 1-coin, 1-card game, and 125.00 credits for a 1.00-credit, 5-coin, 25-card game.
Playing Joker Poker scratch cards is pretty simple...
Press "deal" to get your first round of cards,
And you can press "hold" to keep the cards you feel have the most potential for a win.
Those cards that are guaranteed a win, like a Pair of Kings or a Pair of Aces, etc, will be held automatically.
The Joker is a wild card in the Joker Poker scratch game and will substitute as necessary to form the highest paying combination. For more questions about the game, you can click on the "?" symbol in the lower left-hand corner.
With every win in Joker Poker, you'll be offered a chance to double all or half of your winnings with the Gamble and Gamble 50% feature. Both features are the same with just different amounts at stake.
The Joker Poker scratch cards Gamble Game is pretty standard:
Pick the mystery card's color and double your money.
Pick the mystery card's suit and quadruple your money.
Once you win more than $2,000, the gamble feature is disabled (and congratulations).
This instant win Joker Poker game would seem like an ordinary scratch card game except for the Joker in the corner, who moves with enough lifelike motion to startle even the most steadfast of online scratch card players. When it all comes down to it, the game feels more like online video poker than it does a real scratch card game.
If you already like all the scratch games offered on the NeoGames software platform, playing the Joker Poker online scratch offs will be a nice departure from the typical online instant win games. Play today to see why!