Hippodrome Scratch Off Game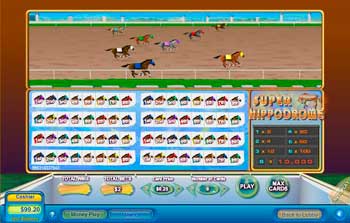 Much like NeoGame's 100m Champion online scratch game, Hippodrome features eight possible winning orders with eight possible chances to win. Featuring a horse race at a hippodrome, this online scratcher is full of possibilities.
After you select how many cards you'd like to play and place your wager, you watch to see how the horse race plays out. The more matches of both horse color and place finish your selected cards contain the more you win!
Select from one to eight cards priced between $.25 and $10.00 each to determine your game wager. The minimum bet with all eight horses selected is $2.00. The maximum wager is $80.00. The jackpot awards 10,000x the line wager, making the jackpot range from $2,500 to $100,000.
While it may not be like the real thing, this instant game does provide a level of suspense and excitement often missing from online instant games. Play it as a free online scratcher or as a real money game at the following casinos.