HiLo54 Scratch Off Game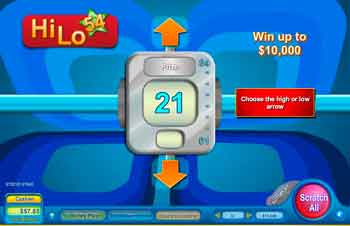 Guess if the next number is higher or lower for a chance to win up to $100,000 with HiLo54, a new online instant-win game from NeoGame Software. Once you've selected your wager, a number will populate in the game, leaving you to guess if the next number will be higher or lower than the one you see. Guess correctly and you win the mystery prize, which could very well be a jackpot worth 10,000x your wager.
You can play the HiLo54 instant-win game for as little as $.50 or as much as $10.00 per game. Since the jackpot pays out 10,000x your wager, you can determine how much you'd like your jackpot to be, from $5,000 to $100,000.
HiLo54 is one of over 70 instant win games available at the following recommended casinos. Play free instant games or wager with real money for real cash payouts today.