Gone Fishin' Scratch Off Game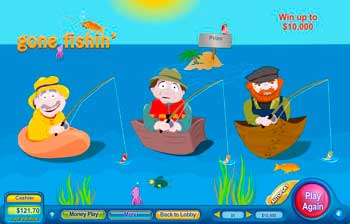 An online instant-win game with a jackpot up to $100,000, Gone Fishin' can be your tackle-box ticket to reelin' in a big bag of cash. Once you choose your wager, you can either personally select which of three fisherman you feel will have a lucky day or you can let the game select for you.
If the fisherman reels in a fish, you win the prize posted on the sign on the island. If he reels in a boot, a life float, or any other non-fish, you lose.
Wagers in the Gone Fishin' online instant win game range from $.50 to $10.00 per game. The amount of the jackpot is determined by the size of the wager, as it delivers 10,000x the bet (making the minimum jackpot amount $5,000, and the maximum $100,000).
Gone Fishin' is both a real money and free online instant-win game. Try both versions at the recommended casinos below.