Golden Island Scratch Off Game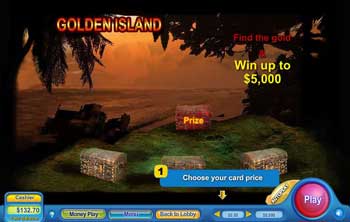 The Golden Island online instant game gives you a chance at opening treasure chests that could be worth $100,000! To play, select your wager and open one of the three treasure chests. If the chest you selected glitters with gold and gems, you win the prize in the Red Mystery Chest. If it doesn't, keep playing until it does!
These online instant games run from $.50 to $10.00 per game. The amount of the instant win jackpot will depend on the wager, and can range from $5,000 to $100,000.
Don on your eye patch, matey, and play the Golden Island online instant games at the following casinos powered by NeoGame software.