Goal Kick Scratch Off Game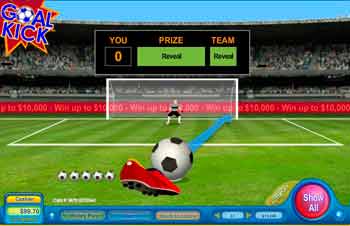 Goal Kick is a football (of the soccer variety)-themed instant game gives you five chances to hit a goal worth up to $100,000! No cleats necessary. The object of the Goal Kick online instant-win game is to beat your opponent's score. If you hit more goals than your opponent, you win the prize.
Instant-win cards range in price from $.50 to $10.00. As the jackpot pays 10,000x your wager, jackpots can range in size from $5,000 to $10,000.
Play the Goal Kick instant game at the following recommended online casinos, and kick it into the goal. Your fans are watching.