Genie Scratch Off Game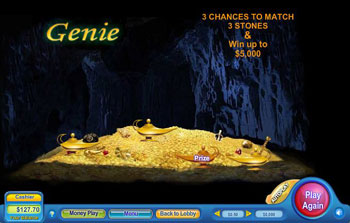 Genie is an online instant win game that gives you three chances to match three stones to win up to $100,000. As an online instant game, playing Genie is simple: rub your "hand" on all three lamps to reveal all three Genies. They emerge with six arms, holding a gem in each of their six hands. If three of the same kinds of gem show up on the same Genie, you win the prize!
The hardest part about the Genie instant game is choosing what to wager, as cards can range in price from $.50 to $10.00. Since the jackpots pay 10,000x what you wager, the larger your bet, the more you can win.
The gems are tiny in this game, so you may need to look closely. Play the Genie online instant game at the following casinos.