Fairy Tale Scratch Off Game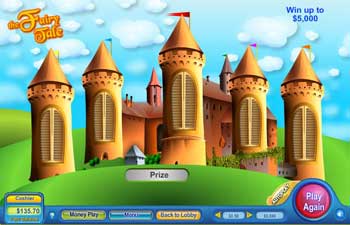 Once upon a time, you played The Fairy Tale online instant game and galloped away with the max $100,000 jackpot. The Fairy Tale features a whole host of characters hidden behind five windows of its magical castle. Your goal, after you set a wager, is to uncover three identical characters within the five available windows. Do so, and you could have enough earnings to become a Prince or Princess yourself.
Card prices in The Fairy Tale online instant game range from $.50 to $10.00. As the jackpot amount is dependent on the amount paid for the card (10,000x the wager), the maximum prize will vary per game, anywhere from $5,000 for a $.50 game to $100,000 for a $10 game.
If you're looking at a magical way to save your distressed wallet The Fairy Tale online instant game may have what you're looking for. Find it and other free online instant games and real money instant games at the following casinos.