Esmeralda Scratch Off Game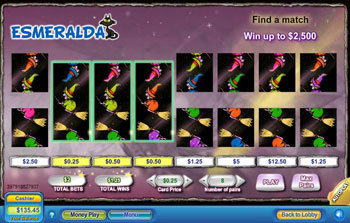 Esmeralda, one of the latest online instant win games from NeoGame Software, is an instant win game with a jackpot worth up to $100,000. To play, all you need to do is select how many pairs you want to play with, and how much you're willing to stake per pair, and then let the game sort out the details.
Esmeralda is an online instant game, not a memory or manual matching game. Learning how to win is as easy as pressing "Play".
Card prices range from $.25 to $10.00, and you can select up to 8 pairs per game. When all eight pairs are selected, the wagering will range from $2.00 to $80.00 per game.
Play this Halloween-inspired online instant game at the following recommended casinos.