Darts Scratch Off Game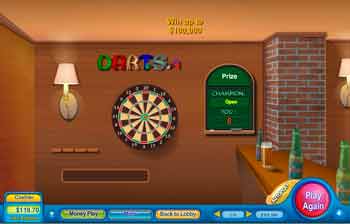 Play Darts as an online instant win game and win up to $100,000! Your favorite bar game just got interesting.
It's just you playing a mysterious darts champion as you attempt to throw a better score than the one posted in the upper right-hand corner. Of note: It may be better to hit the "Show All" button in this online instant win Darts game. Save yourself the aggravation of trying to figure out strategy and realize the whole game is just one of chance.
To wager, select how much you'd like to spend on each game. Card prices range from $.50 to $10.00 each. Note that the jackpot is set at 10,000x your wager, so the more you wager, the more you can win.
Darts online instant win game has all the makings of a good bar fight, without the risk of losing your teeth. Play it today at the following casinos.