Dancing Domino Scratch Off Game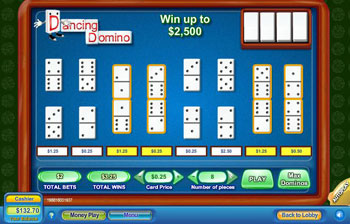 Play NeoGame's Dancing Domino online instant game for a chance to win $100,000 instantly!
Similar to the Esmeralda online instant win game, Dancing Domino looks like it could be a memory game at first. As it is, however, it's a simple online instant game—just select "play" and the work is done for you.
Card pricing range from $.25 to $10, and you'll have the opportunity to choose up to 8 pairs of pieces. Wagers will range from $2 to $80 when the max number of dominoes is selected.
Get lucky instantly with Dancing Domino online instant-win games at the following casinos.