Christmas Joy Scratch Offs
Christmas Joy - Online Scratch Card by NeoGames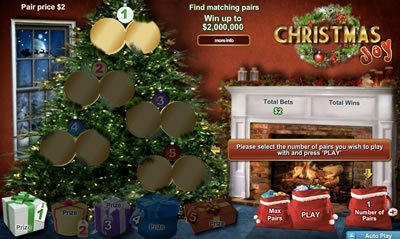 Christmas Joy scratch-offs from NeoGame software, when you scratch off two identical ornament symbols on the game card you can win up to $2,000,000!
Decking the halls and trimming the tree will take on new meaning as you play this festively animated Christmas Joy online scratch card.
Christmas Joy scratch card wagers are set at $2 per pair. You can play up to 5 pairs at a time, making the minimum game wager $2 and the maximum wager $10.
As you reveal the numbered pairs of ornaments, you'll see the corresponding packages open below. Matching pairs are the only winning symbols, so as soon as you see you've made a match, check out how much it is worth in the presents below.
The Christmas Joy scratch card game prizes range from $1 to $2,000,000, so expect to see quite a range of payouts.
For quick reference, the white mantle on the Christmas Joy scratch card will always line up your total amount wagered with your total amount won.
Note that the $2 million jackpot is automatically paid in monthly installments of $11,110 for 15 years unless you'd prefer a lump-sum payout of $500,000. Either way, this is a gift that keeps on giving loads of Christmas Joy. Tis the season!
Play Christmas Joy scratch cards at your favorite NeoGame-powered scratch game site!