Cash Farm Scratch Off Game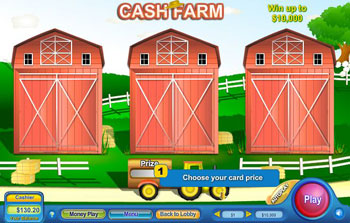 Select the right barn in NeoGame Software's Cash Farm online instant game, and take home up to $100,000! Playing the Cash Farm instant-win game is as easy as tipping a cow. Once you've selected your wager, you'll be prompted to open each of the three barns. If a barn contains three matching animals or family members, you win the prize that is revealed on the wagon below the barns.
Wagers in the Cash Farm instant game range from $.50 to $10.00 per card. Since the jackpot pays 10,000x your wager, jackpots start at $5,000 and go up to a tractor-toting $100,000.
Cash Farm is available as a free online instant game or in a real money format. Play it both ways at the following recommended casinos.