Bubble Bingo Scratch Off Game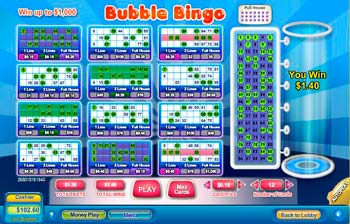 Bubble Bingo gives you 12 cards and 3 stages to win 10,000x your wager in this exciting casino instant win game. The first stage looks for cards that get a one-line pattern with the balls that are selected. The second stage looks for two lines. The third stage is looking for a Full House, or blackout, bingo card.
Bubble Bingo plays a lot like Keno in that you are trying to match the numbers on the balls to the numbers on the cards. In Bubble Bingo instant game, however, you need those numbers to form patterns or lines on the cards to win.
Cards are available for as little as $.10 each and you can play up to 12 cards at a time. Minimum bet on a full card is $1.20. Maximum wager is $120.00.
Play your bingo heart out with the Bubble Bingo instant win game, available now at the following online casinos.