Bowling Scratch Off Game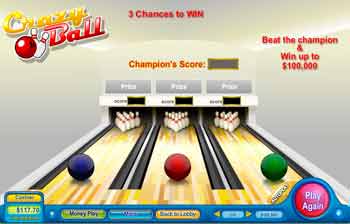 Beat your Bowling opponent and walk away with $100,000 in this online instant win game. Even if you don't know what a King Pin is, you can certainly master this online instant win game, since all you have to do is wager and hit "play" to see if your card has what it takes to win big.
Bowling online instant scratch game prices start at $.50 and go to $10.00 per game. Jackpots pay out at 10,000x your wager, and they start at $5,000 with a $.50 game and go to $100,000 with a $10.00 game.
This bowling-themed online instant game is also known as Crazy Ball, and it's brought to you by NeoGame Software. Play it today at the following fine casinos.