Bingo Scratch Off Game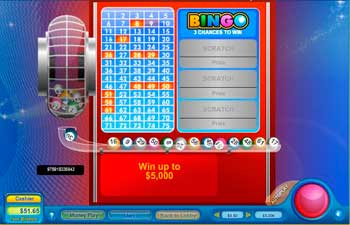 You get three chances to win Bingo and free cash up to $100,000 in this Bingo online scratch game from NeoGame Software. Make one wager and play three games of bingo at the same time as you try to fill three cards with the numbers as they roll out of the bingo machine. You'll need five exact matches to win the prize mentioned below the numbers.
Bingo online scratch cards range in price from $.50 to $10.00. If a Jackpot prize is awarded, it will pay 10,000 coins. This means the Jackpot size will depend on the size of the coin wagered, from $5,000 to $100,000.
Bingo might have been is name-o, but I'm sure it took him longer to spell it than it does to win instantly with this Bingo instant-win game. Play Bingo today at any of the following fine online casinos.