Bingo Bonanza Scratch Off Game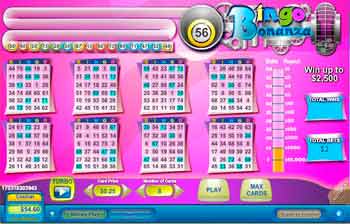 Bingo Bonanza, an online instant bingo game, lets you play 8 cards at the same time as you try to hit the jackpot worth 10,000 coins! All you need to do is pick your wager and sit back. As an instant game, Bingo Bonanza takes your brain out of the equation with the hopes that it puts you wallet into it.
Card prices start at $.25 and go up to $10.00. You can play up to eight cards each game. If you play the maximum number of cards (which we recommend), your bet can be as low as $2.00 or as much as $80.00 per game.
Bingo Bonanza is one of several free online scratch games that can also be played for real money. Try it today at the following fine online casinos.