The 7th Heaven Scratch Off Game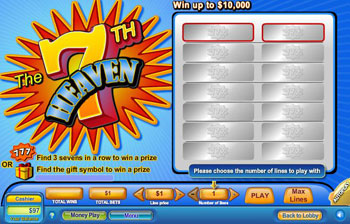 Win up to $5,000 with The 7th Heaven, an online scratch game from NeoGame Software. The object of the game is to scratch off three 7's to win a prize. The amount won is random, but hey, winning is winning! There's also a chance you could uncover a gift box instead of a number, and that will also award a prize.
The price of the wager will depend on the number of lines played (from 1 to 7) and the price staked per line (from $.50to $10). Minimum bet, then, is $1, and maximum bet is $70 per game.
Play 7th Heaven and other free online scratchers at the following reputable casinos.