100m Champion Scratch Off Game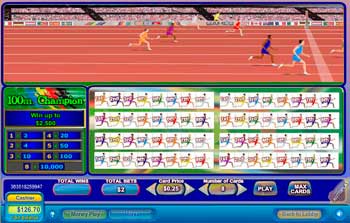 Win up to $100,000 when you correctly guess the finishing racers in the 100m Champion online scratch game. Get up to 8 chances to guess finalists during a race, the more runners you match, the more prizes you win!
Each scratched portion reveals a different finishing order to the runners. As the race runs above, you'll have 8 different chances of having correct matches. Wins are paid out as multipliers on a per card basis, up to 10,000x your bet (that's $100,000 when you play $10 per card).
The 100m Champion instant game card prices start at $.25 and go to $10.00. You can play from 1 to 8 cards per game. Minimum bet per online instant game with a full 8 card coverage is $2; maximum bet is $80.
Play the 100m Champion online scratch card game today at the following recommended casinos.