Yes We Can Casino
Yes We Can online casino is no longer available on our site due to unforeseen circumstances.
We suggest playing at these Top Game online casinos.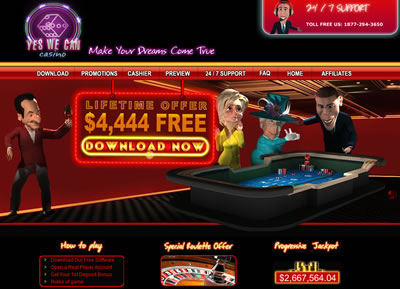 Top Game broke the mold with its Yes We Can Casino, an online gaming site that has a huge assortment of slots, table games, video poker, with over 60 games, and enough politically incorrect moments to shock you into a good time.
While it's doubtful that the political figures posed personally for their doppelganger avatars, they do make for some extra entertainment, regardless of which way you typically lean.
Top Game has several well-known casinos under its impressive belt buckle-names like Rome Casino, 7Spins, and US Blackjack come immediately to mind.
Yes We Can Online Casino Promotions.
With the Yes We Can Casino bonuses, they know how to run an effective, grassroots campaign for your hard-earned gambling wagers-by throwing more money your way. Their welcome bonuses will certainly grab your attention, and their other promotions will keep it. For instance:
100% Lifetime Bonus: Once you become a player at Yes We Can Casino, you'll be eligible for a promotion that doesn't stop giving as long as you're still breathing. Deposit exactly $444 into your account and you'll be rewarded with a 100% match-for as long as you're alive (or you've done it 10 times-hey every promotion has its limits).
Make sure to read the terms, conditions, and directions on how to grab the attention of the customer care department in order to get the bonus:
50% Lifetime Bonus: Easy as 100, 200, 300. If you have two sequential deposits worth $200, Yes We Can will award a 50% match on the deposits. In other words, two deposits worth $100 each equal $200, plus the 100% match equals $300 to play with. Just remember to let customer service know to give you your money!
High Rollers: High Rollers will be happy to know that for every $1500 deposited, they'll get up to half of it back in a 50% bonus match.
Special Roulette: Sundays and Thursdays are the best days to spin the numbered reel. There is $500 at stake for the player with the most wagered in these weekly tournaments.
The Yes We Can online casino promotional offers and bonuses will most likely change over time and they may not allow you more than one bonus offer.
So visit their site for the most accurate and complete details, and to read their "Terms and Conditions" for bonuses, play-through requirements, and extra information.
Yes We Can Casino Games.
Top Game software isn't known for its vast selection of games, but what it does have, it does impressively well. You won't miss anything, and you'll probably pick up a few favorites as you play.
Among the more than 60 online games to choose from at Yes We Can online casino, you will find seven categories to choose from; Video Slots, Video Poker, Blackjack, Classic Slots, Jackpots, Roulette, and More Games. Here's your sneak-peak for those categories:
Video Slots - There are 17 or more to play, from 13 lines in Dioblo, to 25 lines in the new Viking Striking slot game.
Video Poker - Currently four games are offered; play Deuces Wild, Deuces and Joker, Jacks or Better, and Joker Poker. And possibly more additions in the future.
Blackjack - Multihand and Royale blackjack can be played at this time. Play with smooth and fast card action in these blackjack games.
Classic Slots - With 32 classics to play, from 1 line in Crazy Pizza, to 5 lines in Treasures of Pharaohs. Black Diamond 5 lines is my favorite classic slot.
Jackpots - There are seven Jackpot slot games to play at this time. Choose from a 3 line game like Bingo Slot, or play Sweets Surprise, a 25 line jackpot game.
Roulette - Two Roulette games; Roulette Crystal, with 37 numbers (1-36 and a single 0), and Electronic Roulette as a new way to playing roulette, electronically.
More Games - Under this category you will find Mini-Baccarat and Keno.
Visit Yes We Can online casino for the complete lineup of games, as the names and numbers of these games may and/or will change over time.
Yes We Can Casino General Information.
License: Costa Rica.
Software: Download (and Windows) only (Top Game).
System Requirements: Pentium III, 8 MB Hard Disk space, Windows 2000 and newer.
Player Restrictions: Israel, Costa Rica, Ukraine, and in the USA states of Kentucky, Missouri, and Oregon.
Yes We Can Casino had the feel of a Saturday Night Live skit to me-campy, sacrilegious, and a little silly. Add that to a mix of great promotions, a solid software platform and a smooth finished product, and Yes We Can online casino has my vote.