Slots Galore Casino
Slots Galore online casino is no longer accepting new players at this time. We suggest trying RTG casinos; Sun Palace casino, Win Palace casino, Bodog Casino, Intertops Red casino, and High Noon casino.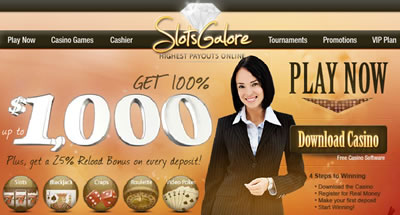 Slots Galore made its appearance as a new online casino on October 15, 2009, using the best in Vegas Tech software, in their slots, blackjack games, video poker and craps, sings that they have the highest payouts online. That's a bold statement.
And it's crazy enough to be true. Some online casinos tout the best customer support, some boast about their unending list of video slot games, and some boast impeccably clean restrooms (okay, I made that last one up).
Like all of Vegas Technology's casinos, the Slots Galore online casino lobby is quick to download. Player registration is fast and easy, and before I knew it, I was looking at a screen packed with menu after sub-menu of games and tournaments.
I loved how accessible everything was; from the mouse-over menus to VIP Plan link, everything I possibly wanted was right there. And this meant I didn't waste anytime getting started.
Slots Galore Online Casino Promotions.
And you'll definitely want to check out Slots Galore's "Early Bird Specials". They sound like a great deal on breakfast, but they taste a heckuva lot better.
Be one of the first people to play at their site to take advantage of the latest Slots Galore Casino bonuses.
Here's the breakdown of other bonuses Slots Galore casino can offer you as a returning and recurring player:
A 25% Reload Bonus: Every time you put money in your account, Slots Galore will reward you with a 25% matching bonus. No hoops, no silly dances, and no waiting.
V.I.P. Plan: Partnered with other Vegas Technology casinos, Slots Galore's VIP Plan gives you so much more than a "thank you for playing" type access to unique player specials, sweepstakes, prizes (like home electronics!), and progressive jackpots. Different games earn different amounts of points, so keep informed and in the game. And then get the free stuff.
Slots Galore outlines pretty specifically what its wagering requirements are under its terms and conditions, and since much of the names and bonuses may change over time be sure to check those out. The document is well organized and easy to read, so it won't take you long!
Slots Galore Casino Special Features.
I already raved about how easy the casino lobby is to navigate, and downloading the games is just as quick.
If you have a tough time making the decision of which game to play first, there's a featured slot in the upper right-hand corner of the lobby screen to make your life a little easier:
Tournaments: Slots Galore's tournament lobby is pretty impressive. At any time of day, you can see what tournaments are currently playing, which ones are accepting players, how many players you're up against, fees, prize monies, etc. I wish the rest of my life was this organized.
Customer Care: Slots Galore online casino offers several ways to reach their customer service representatives, including a live chat feature, which always goes over well with me. I don't want to have to wait for a return email (although they offer that as well) or hang out on the phone (another available option), just give me someone to ping and I'm happy!
Featured Game Menu: This menu really helps cut to the chase, especially since it can get intimidating to navigate through the 120+ games.
Slots Galore also has customizable features, like the ability to adjust the size of your casino screen, speed of animations, volume of sound, etc.
Slots Galore Online Casino Games.
With a name like Slots Galore casino, the name of the games is mostly slots. I was pleasantly surprised to see enough non-slot games available to break up the monotony, however. I'll break out the slots specifically, since they are the main feature:
3 Reel Slots: Choose from 9 classic slots from Crazy Cherry to Triple Triple Gold
3 Reel Slots Bonus: A unique feature to 3-reel slots, these eight games come with a little something extra on top of their paylines. Try Wheel of Change for starters.
5 Reel Slots: A whopping 28 games for you to try, from Grail Maiden to Rocking Robin.
5 Reel Slots Bonus: Who doesn't like a bonus? Slots Galore has 30 of these games just waiting to be spinning a winner. Try the new Monster Money for something frighteningly fun.
7 Reel Slots: New. Different. Fantastic. These completely different slot games are fun just to watch. Slots Galore has two games available, Farming Futures and Lucky 7s.
Traditional Slots: Eight more slots to help you pass the time, from Alien Invasion to Rum Punch.
Progressive Slots: Five gorgeous progressive slots add some serious icing to the payout cake. I like Pay Dirt, but they are all equally fun. The non-slot games at Slots Galore keep your brain nice and sharp. Here's a brief sampling of what you'll find there:
Table Games: From five different ways to play blackjack to a full house of poker games, you'll find enough here to keep you busy when you're spent on the reels.
Video Poker Games: Whether you play single or multi-hand, Slots Galore has plenty of choices for you, from Aces and Faces to Tens or Better.
Specialty Games: Bingo Bucks, Keno, Poker Dice, you name it, they have a little something for everyone.
Progressive Games: Seven of these bad boys are waiting for you to play them and hit the jackpot. At the time of this review, the total progressive jackpot was well on its way to $2 million.
With over 120 games just a mouse click away, Slots Galore sure knows how to show a player a good time.
General Information for Slots Galore Casino.
Software: Download Only.
System Requirements: Windows versions.
Player Restrictions: Wagers are not accepted from players who live in Canada, The Netherlands, Louisiana, Maryland, Oregon or Missouri. Other USA players welcome.
License: Government of Antigua and Barbuda.