Poker Slots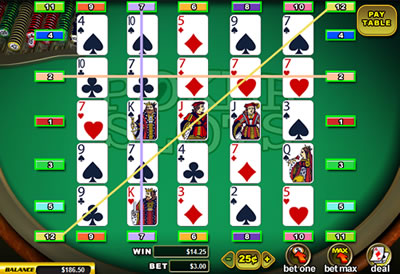 Poker Slots is an online casino game that mixes poker with a slot game, with 5-rows, 5-columns, and 12-paylines, and you can win 1000 coins with a royal flush!
Poker Slots online uses Vegas Technology software and for each game you select the "Deal" button, then poker cards flow from one side of the screen and onto the paylines for possible winning combos.
Poker Slots online wagering has coin sizes that range from 25¢ to $5 and a choice of 1 to 12 lines to play. The minimum bet is $3 and the max bet is $60 per game, when playing all 12 lines. Poker Slots game play and payouts can go from left to right and right to left.
Start your Poker Slots game by selecting your coin amount and then beside that the amount of lines by selecting "Bet One". I think playing all twelve lines is the best way to play Poker Slots, for the maximum payout potential, or choose "Bet Max or MAX" to make all the lines active.
Poker Slots online payouts will go from 5 coins with Two Pairs, up to 1000 coins for a Royal Flush. Here are the payouts:
Two Pairs awards 5 coins.
A 3 of a Kind awards 7 coins.
A Full House awards 10 coins.
A Flush awards 15 coins.
A Straight awards 20 coins.
A 4 of a Kind awards 45 coins.
A 5 of a Kind awards 100 coins.
A Straight Flush awards 250 coins.
The Royal Flush awards 1000 coins!
While playing Poker Slots it may take a while before you get a big win, or not. When I played it it gave me over nine dollars back on my third spin, with a three dollar bet.
Play Poker Slots online game when you're in the mood for poker and slots at the same time!