Poker Dice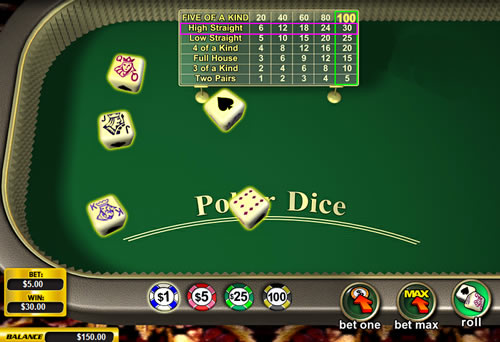 Poker Dice is an online casino game that mixes poker with dice, which is played on a craps table, and you can win 20x your bet with five-of-a-kind! Poker Dice is a Vegas Technology casino game that uses an old-fashioned shaker, dice with poker symbols, and a craps table for the dice to roll on.
Poker Dice has several chip amounts used for wagering, and those are; $1, $5, $25, and $100 chips. You can also choose from 1 to 5 chips per game, making the max bet at $500.
Start your online Poker Dice game by selecting your chip amount, then the amount of chips by selecting "Bet One" until you've reached your desired bet amount.
Or you can choose "Bet Max" to bet five chips per roll.
The Poker Dice online payouts will be from 1 coin with two pairs, up to 20 coins for a five of a kind. Here's the list of those payouts:
Two Pairs awards 1 coin back, or your bet returned.
Three of a Kind awards 2 coins back.
A Full House awards 3 coins back.
Four of a Kind awards 4 coins back.
A Low Straight awards 5 coins back.
A High Straight awards 6 coins back.
Five of a Kind awards 20 coins back!
You times those coins by the amount of chips you've selected, from 1 to 5, or just look at the convenient flashing pay table at the top of the game for your wins.
Play Poker Dice online casino game if you're in the mood for either poker, or craps!