Mayflower Casino
Mayflower online casino is no longer available through our site due to unforeseen circumstances.
We suggest playing at these RTG casinos.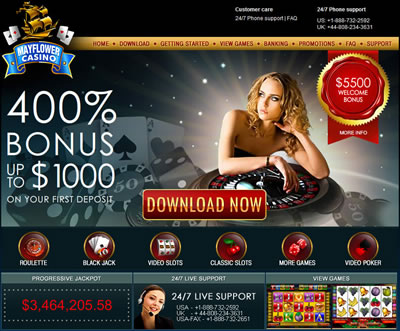 Mayflower casino has great bonuses for new players and more than 70 online games to play using Top Game software, in video poker and slots, classic slots, table games and more.
Set sail with Mayflower online casino and find a unique game around every turn in its ocean of games. Ok, that may sound a little far fetched, but they do have several games I've been hooked on.
The Mayflower casino review will give you a general idea of what you can expect in there live casino. Like a touch-up on their VIP club, an idea of what their promotions are like, and of course, their games.
Mayflower Casino Promotions.
Before you decide to take to the waters, sorry, games, and the latest Mayflower casino bonuses give you smooth sailing and a lot more fun. The following is what you might find in the current Mayflower's promotions with their four deposit bonuses:
First Deposit: Get a 400% bonus on your first deposit, plus a cash bonus.
Second Deposit: Get a 100% bonus, a second bonus and cash on top.
Third Deposit: Get a 100% bonus, a larger second bonus and cash on top.
Forth Deposit: Get a 100% bonus, an even larger second bonus and cash on top.
The bonuses are for first time players at Mayflower casino and mainly for slot game play. Get all of the up-to-date information by visiting Mayflower online casino since their bonus and promotional info may have changed after this review was written.
Mayflower's Special Features.
The special features are what attract me to Mayflower, as a Top Game software game provider, where you have the ability to play five games nearly all at the same time. What I mean by this is, you can have five game tabs open at the same time when your casino software is running.
So, you can switch between your favorite games when you get tired of playing one or the other-or the other, or the other-Ok, I think you get the point.
Another feature I like about Mayflower online casino is the live help window when you first sign in. If you have any questions about a promotion or bonus offer, just type your question in the box and it won't be long before someone replies.
Mayflower Casino VIP Club.
So, by reading the Mayflower casino VIP Club area, you could say one has to travel the high seas to be a member, with only three club member levels to be placed in through invitation only:
Captain's Lounge - Purchase $1,000 and wager $50,000 per month.
Admiral's Club - Purchase $10,000 and wager $500,000.
Royal Suite - This level has the best benefits and privileges available.
You can receive many privileges and benefits by being placed in one of the VIP membership levels. If you feel you've made enough wagers at Mayflower casino and haven't been invited as a member, you can email their support and find out why (I would contact live help first).
Mayflower Casino Games.
Mayflower online casino has more than seventy games and most of those are in classic slots. Plus they have video slots, table games, video poker and keno. Check out the categories:
Video Slot Games - Over 16 video slots with 5 reels and paylines ranging from 9 to 25. Practically all of the video slot games have a bonus and free spins game.
Classic Slot Games - Over 20 classic slots to play with 3 reels and 1, 3, and 5 paylines.
Table Games - There are several table games to play, like Blackjack and Roulette for example. And they have this fun Electronic-Roulette game and Keno, too.
Video Poker - Play Joker Poker, Deuces Wild, and others.
Many of the classic and video slots have a progressive jackpot that will add a little more spice to your life if you happen to hit one. Check out our Top Game slots page to find out what kinds of slots are offered.
Mayflower Casino's General Information.
Software: Download, Window only - Top Game.
System Requirements: Processor 600Mhz, 8 MB of hard disk space, 256 MB of RAM, Windows 2000, XP or Vista operating systems.
Restrictions: All Mayflower games are void where prohibited by law and to individuals not of legal age.
License: Mayflower online casino is owned and operated by Blefondia Holdings Ltd, and licensed by the government of UK.
Please remember to read the Mayflower online casino "Terms and Conditions" on bonuses or promotional offers. And now that you know about Mayflower, start playing their games and have a great time!