Hi-Low
Hi-Low - An Online Card Game from Net Entertainment.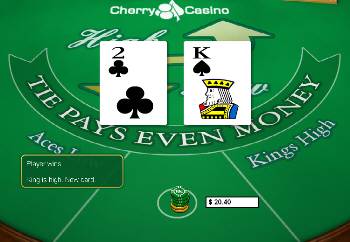 Hi-Low is a fun game and this software makes the game more enjoyable. Place your bet on the table and a card will be dealt face up.
You will basically be guessing if the next card will be higher or lower than the first dealt card. If you guess correctly you win, if you don't, you lose.
When you win, your winnings are added to your bet and a running total is displayed to the right of the chips. You have the choice then to collect the winnings or stake them on the next card.
If you choose to leave your winnings in the bet, the last card you were dealt is moved to the left and another card is dealt. Again you choose hi or low.
If an Ace or a King is dealt they are discarded since an Ace is the lowest card and a King is the highest card.
If the second card is the same as the first, it's a tie and you are paid even money. A window will also show you the possible payout for the two choices based on the odds of winning that combination.
High-Low is not a complicated card game and the way this game plays makes it more fun than the usual game but a word of warning here, don't get so carried away you forget to collect your winnings!