Dazzling Dice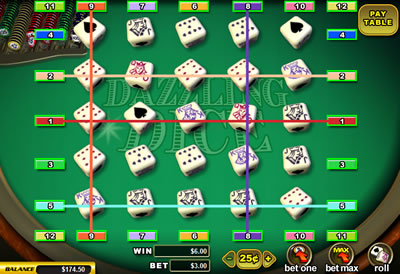 Dazzling Dice is an online game with 5 rows, 5 columns, and 12 paylines. It uses dice to play poker and the standard poker hands are recognized for payouts, with Vegas Technology software.
Dazzling Dice online game wagering has several coin denominations for this game, and those are 25¢, 50¢, $1, $2, and $5 per game. Or you could call it per roll, since the dazzling dice will roll from one side of the screen to the lines to make winning combinations.
The Dazzling Dice game's dice are thrown, and when they finish tumbling; any recognized poker hands are paid.
Here's the Dazzling Dice online game payout list:
Three of a Kind pays 2 coins.
Full House pays 4 coins.
Four of a Kind pays 6 coins.
Low Straight pays 8 coins.
High Straight pays 10 coins.
Five of a Kind pays 100 coins.
The Dazzling Dice game's highest combinations are paid out on each paid line.
Play Dazzling Dice online to see the dice dance and the payouts dazzle; it's a fun game!