Casino WebCam
Casino WebCam is no longer available through our site due to unforeseen circumstances.
We suggest playing at these proprietary casinos.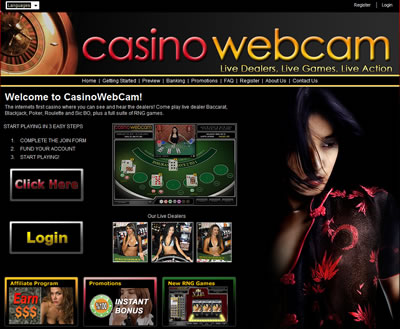 While Casino WebCam's gaming selection may not impress you, especially since they only have a few games like Blackjack, Roulette, Poker, and others, its live-action dealers are certainly worth writing home about.
Not only are they beautiful, they add a much-desired personal touch to the table games.
You've no doubt heard it said that size doesn't matter, and in the case of Casino WebCam online casino, that certainly is the case.
If you're looking for a little more person-ality to your Blackjack experience, I believe you've found it with Casino WebCam.
Casino WebCam Online Promotions.
The cashier will inform you of any Casino WebCam bonuses you are eligible for with your first deposits.
You have the ability to turn down any bonus offered, which you may decide to do if the wagering requirements are too steep for your blood; make sure you are aware of them before you accept the "free" money.
Special Features at Casino WebCam.
The only think missing from Casino WebCam's Blackjack tables is the feel of felt under your fingertips and someone asking for your drink order. Everything is right there-the live dealers, the card flip, and even the ability to strike up a conversation with other players:
No Download: Hop on and hop in-no waiting for downloads, installation screens, or pop-up messages. Creating an account at Casino Webcam online casino is easy-just submit your personal details, as you would any other casino, and you're ready to play.
Play For Fun: Just because the dealers are real doesn't mean the money has to be. Each player who logs into the site has the opportunity to use some play money, to get acclimated first, if they so choose.
Email-Only Support: I list this not as a benefit exactly, but for information purposes. Responses are promised within 24-hours, so it looks like all the live action at Casino Webcam is going to the games.
Casino WebCam Online Games.
While Casino WebCam does offer a few non-live-dealer games, its selection of slots and no-webcam table games leave much to be desired.
But then, it's not advertising its slot game selection. Their games at the time of this review:
Blackjack
Baccarat
Roulette
Sic Bo
Poker
Most table minimums are $5 to $10, which can be a shock to those of us used to playing the simulated tables--but it's what to be expected of a live Vegas-esque experience. Be sure to head over to Casino WebCam and check out the newest Live Dealer games.
A Note about the Live Experience.
Casino WebCam utilizes online chat as well as audio/video stream to allow players to correspond with each other and the dealer.
If you have your doubts about the dealer's actual existence, ask the dealer to wave at you. (Don't fret if you involuntarily wave back).
You'll place bets at Casino WebCam as you would with any online casino; and have a virtual chip stack, sit at a virtual table, and the software will respond virtually to all live actions the dealer makes.
When the dealer flips over an oversized King of Clubs, the casino software will recognize the card and display it on the virtual table.
While this process isn't always seamless, since everything will depend on the speed and strength of the almighty internet connection, it sure spices up the action for those of us who had previously been detached from the table.
General Information for Casino WebCam.
License: Online Casino WebCam is licensed in Costa Rica, Inversiones VC Dos Mil S.A.
Recommended System Requirements: Since it doesn't require a download, Windows and Macs can play in the same sandbox (if unwillingly). You'll need a decent graphics card, at least a 56K modem (the faster the better), and at least Windows 98, for PC users.
You may need to download Macromedia Flash Player if your computer doesn't already have it installed.
Software: Flash Only.
Player Restrictions: No US Players (even though it uses US currency). The site employs an IP block on all restricted countries, so only players from accepted countries can select the casino links.
Casino WebCam delivers what many online casinos can't, and for that, it's worth checking out. Wave to a live dealer today!