Caribbean Stud Poker Flash
Caribbean Stud Flash Poker - An Online Table Game by Net Entertainment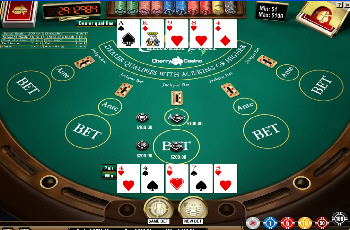 The rules for this game are the standard accepted rules for Caribbean Stud Poker. One deck is used for each game and shuffled before the game begins.
Place a wager on the circle of the table marked Ante. Play is initiated and 5 cards are dealt to you face up and 5 cards are dealt to the dealer with only one of those face up.
In Caribbean Stud Poker, the highest hand wins but the dealers hand has got to qualify, meaning their hand has got to have a minimum of Ace+King. At this point you have to decide to play or fold. If you fold, your ante is forfeit. If you play, you must add to your bet by doubling the amount of the ante.
If the dealer doesn't qualify on a hand, you win even money. So you look at your hand and look at the one card visible on the dealer hand. If you don't have a pair and your highest card is a 10 and the only visible dealer card is an Ace, you know a couple of things right off the bat.
You can't beat the dealers hand and the dealer has at least one of the two cards needed to qualify. In this situation, you would fold.
If you decided to play and matched the ante, the dealer turns their cards over. If they don't have the minimum Ace+King, then you win even money on the ante and the additional bet is returned.
If the dealer hand does qualify, both hands are checked for high hand and the highest winning hand awarded the payout. If the dealer hand is higher, all wagers are lost.
This game also has a progressive jackpot available. To play the progressive, place a $1 wager on the table in the section marked. A Royal Flush pays off 100% of the jackpot!