Virgin Poker
Virgin Poker is no longer available on the internet.
We suggest playing at these online poker rooms.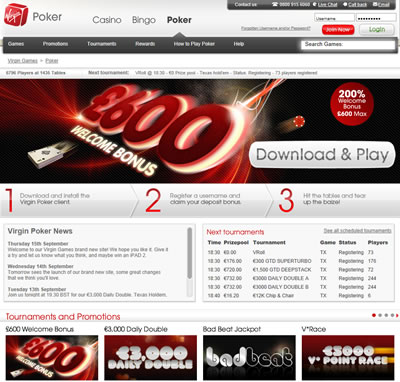 Virgin Poker has tables of Texas Hold'em, 5 Card Draw, and 7 Card Stud waiting for you to sit down and put on your poker face!
Don't be fooled by their basic selection at Virgin online poker; there are as many stakes and tables for each game as there are shades of red on their poker homepage.
Virgin Poker has been at the tables since 2004, is licensed by Boss Media Malta Poker Ltd and offers a variety of poker games.
You can either jump right in with real money, or play a couple of practice rounds to warm up.
Virgin Poker is as inviting as it is charming, the tone on every page is conversational, friendly and informative. They offer a lot of tips and strategies, and it's worth it to comb through their "Learn the Game" and "Master the Game" sections to pick up a worthwhile tip, or even eight.
When you're ready, be sure to check out their long list of ongoing online poker tournaments. You can start with the Virgin Cheapskates tourney and work your way up to the €1,000,000 Guaranteed tournament.
Virgin Online Poker Promotions.
Welcome Bonus: Virgin presents you with a nice Vigin Poker bonus. This isn't an immediate release, so don't fret like I almost did, when you notice that it doesn't instantly hit your account.
Refer-a-Friend: €25 bonus to any friend you'll inevitably refer to this site.
Beat the Bubble: Finally, a prize for second place, in guaranteed pot tournaments. If you finished just shy of winning, Virgin Poker will give you back your buy-in. No harm done.
Jackpot Sit 'n' Go: Players can win up to €10,000 by winning 6 jackpot tournaments in a row.
€35 Daily Freeroll: As they say, "get your money for nothing and your chips for free". Free cash play every day.
Virgin Poker Online Features.
Virgin Poker School: Take that any way you want to, but their poker lessons don't mess around. Not only do they lead you through how the game is played on their site, they also teach you the lingo, the etiquette and the skills to win. Read online, watch online video tutorials or sit in on a live practice session.
Player Stats: This is an in-depth statistical tool to see a quantitative analysis of your personal poker strengths and weaknesses. Are you calling too early? Folding less than you raise? Betting longer than you should?
Hand History: A great instant replay for poker players to check previous hands.
Opponent Notes: Track the tells, personalities and competitiveness of other players as you learn them, by keeping personal notes on them.
4-Color Deck: Variety is the spice; and if it helps you find the flush a little easier, their decks come in a variety of suit-specific colors.
Player Loyalty at Virgin Poker Online.
Virgin Poker has three distinct types of player loyalty programs:
VPoints, VTables and their VIP club.
VPoints:
Earned during all cash play, VPoints can be exchanged for a whole host of extras from Virgin Atlantic Flying Club miles to mobile top-ups. Yes, the prizes are all of the Virgin variety, but chances are, you'll find something that you want/need more of/could give as a nice gift.
VTable:
The top 100 players who earn the most V*Points in a month will have a chance to earn more through a freeroll. Ranking is established by earned points-not net points-so even if you cashed in to buy some planet tickets, your points value (as far as VTable is concerned) is unaffected.
The amount of the freeroll depends on rank, but could be as much as €2000. And this happens every month!
VIP Club:
This club is more, shall I say, selective than other poker sites and it doesn't grant admittance for just anyone. Players need to generate and maintain at least 1000 points in a single month to gain entry. At the time of this review, the biggest advantage to the Club is a point reward.
But Virgin Poker online promises that soon its members will receive priority customer service, faster money transactions and exclusive tournaments. See you at the tables.