Patriots of Poker
Patriots of Poker is no longer accessible through our site due to unforeseen circumstances. We suggest playing at these online poker rooms.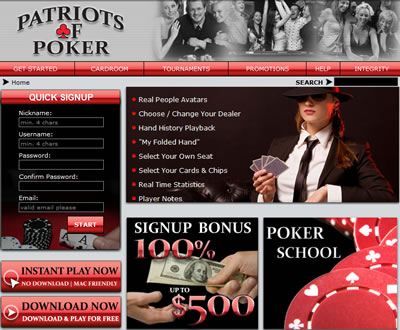 One of the latest additions to the online poker world since September 2009, Patriots of Poker uses Everleaf Gaming software with card games like Texas Hold'em, 7 Card Stud, Omaha hi/lo and Omaha high.
Their software may be fairly new to some of us, but not to those who know it is clear, user-friendly, and fast-paced.
I'm not just saying this from a quick look at the Patriots of Poker online poker rooms, I've played there myself and have to say this; if you want a fast game of cards (with 30 second timers) this is the place to play. There's no monkeying around in their poker games.
Patriots of Poker Online Promotions.
When it comes to their poker promotions you should first start your card playing experience with the latest Patriots of Poker bonuses, and then you can get to the tables fully armored and ready to play.
But if you don't feel like shelling out some credits at first, they've also got you covered in that area with Practice Chips tables.
Now let us get to that list of promotions available at Patriots of Poker, as shown below:
WSOP - Each year there are tournaments being played towards the World Series Of Poker event that takes place in Las Vegas. You can start off in tournaments with mere pennies for the buy-in, up to the final-stage tournaments that will cost in the hundreds.
Grab-A-Grand: This 5-Step series of poker tournaments lets you start of gradually in steps and vouchers towards the main prize of $1,000 for the first place prize.
Poker Points: Get enough of these points towards PP Freerolls towards earning real cash money. In normal games get 1PP for every $0.10 you contribute to the rake, and you can also get PP's for buying into tournaments too! You won't find this at very many poker sites.
Invite a Friend: Get $50 for getting a friend to sign up with Patriots of Poker (that's after you both meet the wagering requirements of course).
The above names and amounts may change over time, so get the full details on these and any other promotion offered by visiting Patriots of Poker online, and don't forget to read their terms and conditions on any bonuses or promotional offers.
Patriots of Poker Special Features.
In just a few minutes (unless you have dial-up, then it'll take longer) you can download the Patriots of Poker software and get started playing in the most favored online card games.
Or you can sign up through the Instant Play and get started about as fast as it takes to type in your personal information (great for Mac users):
Hand and Card Options: There's a long list of options to choose from, and this should be the place to start before you begin playing your poker games, but to name a few; there's the card color option, hand history, and the "My Folded Hand" button that shows up (use this to see if you should've stayed in the game) after you fold a hand.
Statistics and Notes: Select the statistics button by the chat area to see how you've been playing your hands and you can write notes about the people you're playing. Also you can tag players, so later on you will know if they are a good player or not good.
Table Features: Now here's one a lot of us would love to do; "Change the Dealer" or as I call it, "New Dealer". Patriots has a button where you can do just that, change the dealer. There's also "Instant Support" or a Hand Rep as they call it (in case things get out of hand at your table).
Patriots of Poker is fully loaded with different options to choose from, but we couldn't list them all, and they even have a place to email them if they don't have your favorite feature.
Sounds like they want what the players want in a poker room.
Patriots of Poker Online Games.
There were four of the favorite online poker games available at the time of this review, but we are sure they just may add a few more before to long to keep up with the ever growing online poker competition. And the most favorite poker games are:
Texas Hold'em
Omaha Hi/Lo
Omaha High
7 Card Stud
These are the card games offered during the review. In the Poker Games section there's a brief description of how each game is played under that games name.
There's even an area with basic rules and a little history of poker in the Patriots of Poker "Poker School" section.
General Information for Patriots of Poker.
Software: Download & Instant Play - Everleaf Gaming.
System Requirements: Windows versions and Mac.
Player Restrictions: US players are restricted at this time.
Licensed: Through Everleaf Gaming Ltd from the Malta Lotteries & Gaming Authority in Malta.