Paradise Poker
Paradise Poker is no longer available through our site due to unforeseen circumstances. We suggest playing at these online poker rooms.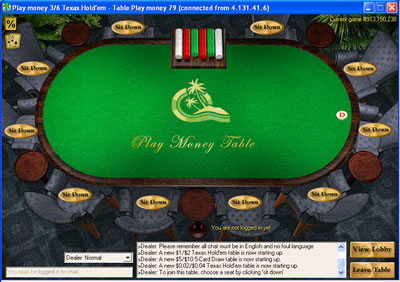 One of the oldest sites, Paradise Poker has been online since 1999. They have been listed as the fourth largest poker room online with over 8,000 players at peak hours. There are always numerous poker games at all levels in both limit and no-limit Texas Holdem and Omaha in limit and pot-limit.
The software is eye pleasing and designed around a tropical theme. The Paradise Poker lobby has tabs along the left-hand side to choose the game, limit or tournament section.
After choosing a tab, tables can be easily sorted by limit and/or number of players. Once you are at a table to play, the total in the pot is displayed above the table and the bets of each player are shown as chips in front of them.
This sometimes makes it difficult to quickly see the amount of the bet, but it is listed in the action boxes located at the bottom of the screen in the center.
There is also an option to keep detailed notes on each player and a chat box that can be turned off if you don't want to deal with it. Paradise Poker offers a free download of the software and there are play money tables available.
Limit Holdem is spread from .02/.04 up to 40/80 and no-limit from a $2 buy-in up to $500. The 40/80 games are sporadic, usually running full in the evening but there are games up to and including 20/40 around the clock.
Omaha/8 is offered in limit from .50/1 to 10/20 and in pot-limit with buy-ins from $50 up to $400. Omaha high, 7 Card Stud, 7 Card Stud high/low, Pineapple, 5 Card Draw, 5 Card Stud and even Blackjack are all also offered in the poker room to make Paradise one of the leaders in game selection and options.
There are one-on-one games and tournaments available as well as sit-n-gos (called mini tournaments) with buy-ins from $6 up to $109 at all times.
In addition to the 24-hour ring game options above, Paradise runs around 50 multi-table tournaments every day with buy-ins ranging from $1 up to $250. They also offer some tournaments that allow rebuys and add-ons.
Because of the amount of tournaments and range of buy-ins, Paradise Poker offers a tournament for everyone. There are also daily $50,000 and $20,000 guaranteed tournaments and a $100,000 guaranteed tournament every Sunday.
PricewaterhouseCoopers is an independent third party auditor that tests and verifies that all shuffles at Paradise Poker are random. In addition, Paradise keeps reserve accounts equal to or greater than all player deposits at all times.
Paradise Poker offers something for everyone from the micro limit player to the high rollers and tournament professionals. When coupled with the amount of games running around the clock, they may be the only room you ever need to play at.