Pacific Poker
Pacific Poker is no longer available through our site due to unforeseen circumstances. We suggest playing at these online poker rooms.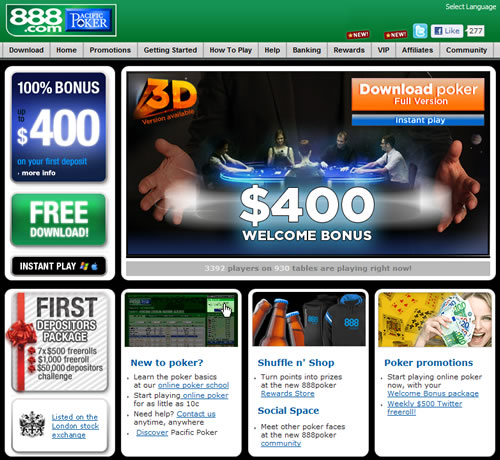 Pacific Poker, aka 888 Poker, has the highest level card games running around the clock in Texas Holdem poker, and solid action at the Omaha and 7 Card Stud poker tables as well, for beginner and professional poker players.
Pacific online poker is also known as 888 Poker and is one of the ten largest poker networks online with over 8,000 players at peak hours. Along with most of the rooms in the top ten, they have experienced tremendous growth in past few years.
They are one of the few poker rooms online that offer both a download and no-download version of their software. The Pacific Poker lobby is easy to use with regular tables to the left and tournaments on the right.
See the latest Pacific Poker bonuses before you play or you can check them out on their site as well.
There are tabs for each game under the regular tables with tabs for sit-n-go's, satellites and multi table under tournaments. The available games can be sorted by stakes, players, average pot, wait, flop percentage and hands per hour.
At the Pacific Poker table, the amount in the pot is displayed in the middle of the table at all times and there is a 30 second timer above the dealer that counts down each player's time.
Pacific Poker is one of the few rooms that have a button that you must use to see the chat feature at the table. Most rooms have a chat box that cannot be removed, even if you turn the chat off.
The action buttons are at the bottom of the screen in the middle and you may keep detailed notes on your opponents by choosing their seat.
Pacific online poker has a free download of their software and some of the most active micro limit tables available online.
Pacific Poker online is owned and operated by Cassava Enterprises (Gibraltar) Ltd.
Pacific online poker accepts most all International players except US based players.
Pacific Poker Games.
Pacific Poker offers Holdem card games:
In Limit; with blinds from .05/.10 up to 30/60,
In Pot-limit; with buy-ins from 10 to 200,
And No-limit; from 10 to 200.
Pacific Poker online Omaha card games:
Omaha High; spread with blinds from .05/.10 to 30/60,
And Omaha/8 with blinds going from .05/.10 to 30/60.
Pacific Poker's 7 Card Stud and 7 Card Stud/8 are both offered from .05/.10 to 15/30.
At the lower holdem limits, Pacific has the reputation of having some of the softest competition online.
Pacific Poker has sit-n-go's 24 hours a day:
To fit every player's comfort level and budget,
With tables for 2, 5, 6, 10 and 20 (2 table sit-n-go) players,
And buy-ins ranging from 2.20 all the way up to 215.
Pacific Poker runs online multi-table tournaments around the clock:
With buy ins from .50 to 110,
A 10,000 guaranteed no-limit holdem tournament every day with a buy-in of 16.50,
A 100,000 guaranteed every Sunday with a 110 buy-in,
And many 30,000 guarantees during the week; with 33 buy-ins and satellites to them for 6.60 and 11.
Pacific Poker online has fairly soft competition as a nice option for first time players, with the combination of play money tables and micro limit tables!