BF Games Ignites Excitement with Fiery Slots Cash Mesh Ultra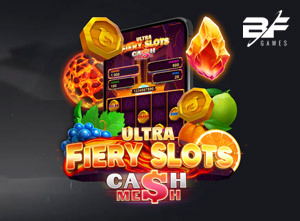 BF Games, a dynamic slot development studio, is setting the online gaming world on fire with its latest release, Fiery Slots Cash Mesh Ultra. This electrifying addition to the Fiery Slots series is a blend of traditional themes and innovative features!
A Fusion of Fruits and Flames
In Fiery Slots Cash Mesh Ultra, players are treated to a visually stunning experience. The game's design centers around a lively backdrop of dancing embers, where the 5×3 reels come alive with vibrant fruit symbols and shimmering gold coins. This medium volatility game is not just a visual treat but also offers a unique player experience that combines the nostalgia of classic fruit slots with the thrill of modern gaming mechanics.
Cash Mesh Feature: Where the Magic Happens
At the heart of this fiery slot is the Cash Mesh feature, a fan-favorite from BF Games. Triggered by landing five or more gold coins on the reels, each coin reveals its own value, which could include a Jackpot or Bonus label. The Cash Mesh feature starts with three respins, and with every new coin that appears, the count resets, building up to potentially massive wins. Players can learn more about enhancing their slot experience with insightful strategies.
One of the most exhilarating moments during play on this title is the Full House Multiplier. Filling all 15 positions on the reels with coins during the Cash Mesh round doubles the total cash value, leading to extraordinary payouts. The excitement doesn't stop there – landing a Coin symbol with a Jackpot or Bonus label brings additional rewards, with the Mini and Minor Bonuses fixed at x2 and x10, respectively.
Wilds and Scatters: A Gateway to Bigger Wins
The game's Wild symbol, a flaming stone, adds an extra layer of excitement by substituting for all other symbols except the Scatter. The Scatter, depicted as a glowing fireball, forms winning combinations when three or more land on any reel. For players looking to dive deeper into slot gaming and learn more about maximizing their gameplay, explore no-wagering bonuses.
This latest release takes BF's impressive portfolio to new heights. It's a thrilling combination of classic slot elements and innovative features that will undoubtedly appeal to both fruit slot enthusiasts and those seeking a fiery gaming challenge. Discover more exciting slot adventures here.
Product Owner at BF Games, Piotr Saluda commented: "Fiery Slots Cash Mesh Ultra offers enhanced and more energetic take on our original Fiery Slots game – with the Cash Mesh feature increasing the chances of winning big."
Source: "BF Games sets the reels ablaze in Fiery Slots Cash Mesh Ultra". BFGames. November 8, 2023.4
By Ivan Stefanovic