RTG Software Keno
BreakAway Casino has great offers for that Keno lover in you. Break Away provides play and real money environments for you to compete in. The Keno lay out is really straightforward and easy to understand.
All you have to do is pick anywhere from 1 to 15 numbers on the 80 number board. The game will then pick 20 numbers at random and the more you hit the more money you make. Hits are kept track of on the right side of the game and show how many hits you got for each card.
If you play multiple cards at once you can click on each game and check where you hit and where you didn't.
Missed hits are marked by a red x, your hits are highlighted in yellow boxes and flash red so it's impossible to get confused on what you hit and didn't hit. The more numbers you choose the bigger the pay out possibility, its very simple. Keno is great for anyone who just wants to relax and pass the time.
You can choose whatever numbers you want or have the computer randomly pick them for you using the quick pick button.
The limits on the keno cards vary from 1 cent all the way up to 10 dollars. You can also play 1, 5, or 10 cards using the same numbers if you want. Once the computer has gone through these numbers you can keep playing them if your feeling lucky or click the clear button and choose a whole new set along with betting value.
Your balance is shown on the bottom left corner and updated as you win and lose. It's possible to win up to $250,000! Using really not a whole lot of money, that's what makes Keno such a great game.
It's also possible to play mini games while keno is running, just click on the mini games tab and a list will pop up. Keno runs pretty quick though so it is a little hard to try and play two games at once, at least if you're like me and like to watch the keno numbers pop up!
BreakAway Keno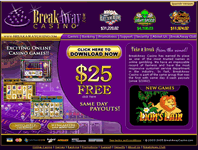 BreakAway casino is a long respected casino built upon the award winning RealTime Gaming software. BreakAway online casino has everything your local and Vegas casinos offer, but from the comfort of your own home. Each game is complimented with beautiful graphics and realistic sounds to help add to the ambiance of a real casino.
Depositing at BreakAway is very easy and there are a ton of options to choose from. You can pick from Neteller, Money Transfer, Visa, Mastercard, InstaDebit, Ecocard, Central Coin, and Click 2 Pay among others.
Withdrawals are limited to Neteller and Money Transfer, so these two deposit methods are widely suggested as you will need them anyway to cash out. The best part about BreakAway is their same day withdrawals, forget waiting half a week for your money and get it right away with BreakAway.
Breakaway casino offers everything under the sun when it comes to games. Choose from 11 different progressive games, 14 amazing five reel slots, and 8 different three reel slots, featuring Diamond Mine and Bank on It! Check out the gigantic progressive jackpots for a chance to win thousands.
You can check on the web site for live up to date counters on all of the progressive pots. Six variations of 21 from all around the world are offered including everything from your standard Black Jack to the exciting Platoon.
Table games are bountiful, Caribbean Poker, Pai-gow, Baccarat, War, Let it Ride, Tri-card poker, Roulette, Keno, Craps are all available.
BreakAway casino also has some specialty games including Mystery Poker and Pick'em Poker. Promotions are constantly running and changing along with some great sign up bonuses, keep your eyes peeled for some fantastic deals.
Great live support and speedy customer service along with huge game selection really break this casino away from the rest!
Break Away Casino is not accepting U.S. Players at this time.
Breakaway Casino Keno - Take a Break from the Usual. Break Away is renowned for it's prompt payouts and great online keno games. Break Away paid the Pirate promptly, $40,000! You can get up to $250 free keno money here.