Parlay Software Keno
Slots Village Classic Keno is a hoot. Featuring a big center board with all your numbers marked from 1 through 80 in nice little blue boxes.
You can play everything from 5 cents to $5. To switch money amounts you just have to click the addition or minus sign in the little money field and it will cycle through the amounts until you find your desired coin size.
It's possible to play your numbers 1, 3, or 5 times. Once you pick which one you want to do and your numbers go through you can view how many hits you got per round on the side result panel. If you feel like keeping the numbers you can still change your coin amount of how many times you want to play them. If you want new numbers you can press clear and select a whole new set.
If you're in a rush or just don't feel like taking the time to pick your numbers you can use the automated quick pick function, which will randomly pick your numbers for you. The best part about Classic Keno not being multi-player is the fact that you can control the game speed.
If you want to playa ton of games you can speed it up to the fastest it will go or if you just want to take it easy and have a nice slow pace you can do that too. It's a really nice feature to have at your finger tips.
Slots Village offers many depositing methods, all of which require a minimum of $50. All the well known banking options are open for use. Also different methods are eligible for special bonuses so check out the cashier when you decide to deposit and find your best option.
Slots village Keno is classic to the point keno, no gimmicks, you get what you ask for.
Slots Village Keno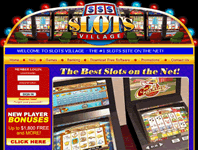 Slots Village advertises themselves as the best slot site on the net. This could be debatable, but they are definitely among the top runners in the online slot industry. Considering this is one of their sole focuses, you can expect some good slot offerings out of them.
Once you download Slot Village's software and set up an account you will realize they do have a ton of slots! There are a lot of slots to pick from, it's actually pretty hard to choose.
Fortunately you're not married to once machine so you can play every different game if you want. The slots are split up into reels and lines. You can play everything from the featured 1 line 3 reel slots like the Citrus 7's or Double Scoop Delight, to the 9 line Trolling for Treasure and Get Cracking video slots.
Slots Village isn't just limited to slots, they also offer Roulette where you can bet anywhere from $1 all the way up to $500! Pull tabs are also available with a top pay out of $300, you can win that off of a $1 tab. If none of this suits you there's always craps and blackjack to keep you busy or if Caribbean poker is your game you can play that too. Plus there are 10 different video poker machines to try out, you can win up to $20,000 on these.
Support is available in real time 24/7 if you need it. You can also call Slots offices and deal with a representative over the phone using their on site provided toll free number. If you don't like any of those options or are in a rush you can also drop them an email at their address in which the guarantee responses within 24 hours for all emails. Tough to beat that! If you're looking for a slot heavy casino to push your coins into, Slots Village just might be right for you.
Get $10 Free No Deposit Keno money and over $1,800 in welcome bonuses.