Microgaming Software Keno
Aztec Riches, Roxy Palace, and Riverbelle Keno both run off the powerful Microgaming software. Both are wonderfully themed and have some great features.
The online instant versions of each game are not themed the same way, but the Keno that is offered is still the same game.
In this Keno you pick up to 15 numbers, not limited to 10 like a lot of sites out there. Out of the 80 numbers 20 are randomly picked. The more you match the more you win.
You want to match close to however many you placed on the board, pay outs are based on this ratio. If you bet 6 numbers and hit 5 of them one time and then another time bet 15 and hit 6 of them, the first set would pay off much better than the second.
Aztec and Roxy Keno both let you bet either $1, $2, $5, or $10 at a time. For however many numbers you bet and the amount each is worth your pay outs will be calculated in the pay out field.
This will show you how much each hit will be worth. You can access your cashier right from the same page if you need to get more funds.
These Keno offerings are geared more towards the usual Keno player and not the casual auto buy player. Here you actually have to play one at a time and pick your own numbers, no automated business.
You can play the same numbers as much as you want, when you want to switch you can just click on your existing numbers and change a few or press clear and get rid of the whole bunch.
Your balance is kept track at the bottom and you can easily switch screen and sound settings by using the included options. Aztec Riches and Roxy Palace both make for a fantastic Keno filled time.
Aztec Riches Keno.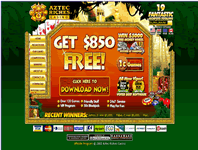 Aztec Riches is one of my favorite casinos to play at. Tons of things play into why I enjoy playing at this casino so much. Aztec offers lots of new promotions every month which actually help make you money.
Either when depositing or winning double on certain games, there are lots of awesome deals. Aztec has close to 20 jack pots all usually totaling much over 1 million dollars.
Aztec Riches accepts fourteen different payment options, all of which are completely safe and available 24 hours a day 7 days a week. Currently four different currencies are accepted, USD, CA, GBP, and EUR. These can all be played with no need of being converted from their original state. Withdrawals are amazingly fast and instant, you don't have to wait for 3 days while your withdrawal processes like at other online casinos.
Riches offer over 140 different casino games, many of which you can try for fun if you so desire. There are limits for every size bank roll, 50 cent black jack is uniquely available along with an assortment on penny slots. Now there's no need to bust the bank if you don't have too!
Aztec also has a great VIP program. It runs off of a point system in which every 1000 points = $10, if you wait and cash in 5000 at once you can get a $10 bonus, making your total $60! You earn one point for every $10 wagered.
That might seem like a lot of money, but points add up really fast if you play for awhile, half the time you don't even notice. Competitions are also played throughout the week, these are part of Aztecs new regular promotions and can count towards player rewards too.
Aztec Riches is an exciting casino with a great selection of games. The graphics are superb and the staff couldn't be friendlier. It's definitely worth the download, an instant version is also available on the website if you look for it. I give Aztec Riches a well deserved two thumbs up.
50% match up to $50 Free, and Get up to $850 free in total keno deposit bonuses. Check out the website for details.
Roxy Palace Keno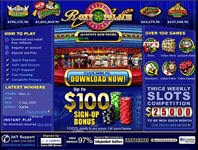 Roxy Palace casino is all about huge jack pots and great game selection. A downloadable version with the full set of over 150 games is most commonly used, but Roxy also offers a little more limited version of there casino in a compact on site flash version.
You can still play most of the same games, there just isn't as in depth of a library and many of the instant play features are poorer quality. Also the flash version will not work in mozilla, so firefox users are out of luck. Internet Explorer is the browser of choice for this software.
Depositors have 8 different options to deposit, if you use Neteller or Firepay you will receive an extra bonus when you deposit. Other payment options are available for sign up bonuses as well, but those two are up for extra bonuses.
If you have any questions when depositing you can contact 24/7 support by toll free phone, international numbers are also available. Roxy accepts 4 different currencies and the website itself is offered in English, Dutch, Italian, and French.
Roxy has a whopping 41 slot machines, 44 video slots, and 13 jack pot slots. That's 98 slots all together! These all vary in coin size and pay outs, a little bit of every thing.
Roxy Palace also has 10 games just centered towards black jack, so if you're a fan of 21, you'll love Roxy Palace. There are 14 other casino table games and around 31 video poker machines for you to choose from.
The Roxy Palace players club is a great new promotional feature. There are 4 different statuses, member, silver, gold and platinum. You earn 1 point for every $10 wagered. For every 1000 points earned you can cash them in for $10.
To reach platinum status you must gain 7,500+ points in a month's time. Each status has different advantages, the higher up the better the offers. Long time players can prosper here, but if you really want to move up you need to play a lot in 1 month.
Overall Roxy Palace has all the games you'll find anywhere else, on top of about 100 others you won't. Great promotions are always popping up and the service is always in tip top shape, if you're a fan of microgaming this is an essential casino to give a try.
Roxy Palace, always up to date, offers a $100 free Keno promotion.
River Belle Keno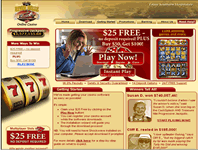 Anyone in to online gambling has heard of River Belle casino and for good reason. Around since 1997, River Belle has grown to be one of the biggest and most respected gambling sites the industry has seen.
River Belle is a member of IGC and strives to keep you the customer happy and safe every time you play with them. River Belle runs on the Microgaming software and features a beautiful southern theme jam packed full with close to 200 games.
River Belle accepts a wide array of depositing methods. Neteller, Firepay, Visa, Mastercard, Citadel, Instadebit, Click2Pay, PaySpark, Money Bookers, uKash, and eCheck are all accepted. Most of these feature some sort of deposit bonus along with other promotions they are always running, you can receive more depending on the payment you choose though.
River Belle also still offers $25 just for signing up, if that's not an amazingly nice offer, I don't know what is. You can also withdraw with most of the same deposit options, so you aren't too limited.
River Belle recently started a rewards club. You earn points every time you deposit and play, as your points build up you gain membership levels.
The more points you gain, the better the prizes and offers are. You can get some really cool stuff if you play enough.
River Belle's selection is unmatched, with close to 200 games, they offer everything from slots to every table game imaginable. You can even play online scratch cards. Apart from the normal casino is a multiplayer casino where you can play against others. If you have an existing prima network alias you can use that here. Otherwise you'll just be asked to make a new account.
River Belles customer service is unmatched, 24/7 live help, by phone or email. River Belle employees are glad to promptly help you with anything that comes up, that's there job and they do it well.
River Belle is amazing to play for real, but you can also play in a fake money arena if you want, a good amount of the games are up for a free try if you want to test them out. With the free no purchase sign up bonus available though, you can usually bypass even having to play for free!
River Belle is an incredible casino with a multitude of options. More than you would ever need in a casino, but that's the reason it's so great, you'll always find something you want to play.
River Belle is always improving and looks like they will continue to stay at the forefront of the online casino industry if history has anything to say about it, this is one highly recommended casino!
River Belle Keno
$25 free keno money or 100 Free Spins on the Tunzamuni Progressive Slots!
Play River Belle Keno Now