JackpotJoy Software Keno
Jackpotjoy is a special little site which is offered in both UK and American versions. Jackpotjoy offers two unique keno games; Fortune Teller Keno & Seaside Bingo Keno. No download is necessary here, once you have made an account you can log in and everything is available to play. All games pop up in java windows, you may need to update your current software for everything to run correctly, but if its not installed most browsers will prompt you and download it for you.
Jackpot features some amazing music and fun realistic sound effects in game and out. Just sitting at the main menu you are treated to a variety of music and crazy sounds, you can watch the little mini TV. These are all basically little flash commercials for all the games, but you can click on whatever is on at the time and it will send you to that game. It's a really cool way to find out about all the on going promotions and other things happening on the site.
Jackpot Joy has everything and I mean everything. Jackpot features an extensive bingo hall, 14 classic slots, 11 multi-line slots, tons of instants, video poker machines, and giant on going progressive jackpots. You can also play a bunch of variations of poker, black jack, and even roulette. Jackpot Joy in constantly expanding and new fun games are introduced every month. You'll never get bored at Jackpot.
One cool feature to Jackpot Joy is the forum. This allows the whole Jackpot community to come together and comment on the site, share ideas, and talk to each other. More casinos need to implement this, it's the best way to find out what people want and its fun to get to talk to other gamblers. You can also post your picture here and see others who you play against.
You can view recent and big winners on the side bar of the main menu. The totals for how much was won the day before and in the last month are also displayed. Shows people are really making some big bucks.
Depositing and withdrawals are fast, most withdrawals are processed within 24 hours. You can deposit using all of the big online methods excluding citadel, so as long as you have one of the others you're set. Jackpot is highly recommended and easily one of the best flash casinos on the market, it allows you to play from anywhere with virtually no downloads. Great stuff!
Fortune Teller Keno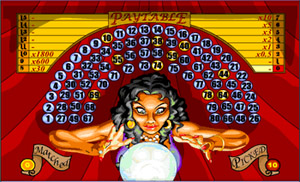 Fortune Teller Keno is one of the most inventive Keno games out there. The games the same, but the presentation is definitely one of a kind. Initially starting out you pick up to 15 numbers on the arched 80 number game board. You can then pick your coin size, you can bet anywhere from 20 cents to 5 dollars just like in Jackpot Joy's other offering Seaside Bingo Keno.
Once you do this its time to click draw balls. Lightening will start to come out of the gypsies crystal ball and fill the screen, inside of the ball you will see the numbers chosen and they will fly out in ball form and land on there respective slots. If you hit a number it will make a beep and light up. Very cool and easy to see what you hit on. There is a pay table offered above to see what your possible winnings are and on the sides of each ball are little pieced of parchment that show how many balls you bet and how many you actually scored.
Outside of this the game is really simple, that's all there is to it. You can chat with fellow players on the side of the game like Seaside, if you click on the users list you can get a list of everyone, if you click on them you can put them on ignore if they were being annoying or something. You can also click rooms and move around to other chat rooms and talk to everyone, it doesn't matter if you're playing Keno, and you can still talk to the people in the bingo room.
Overall Fortune Teller Bingo is really sweet for how small and simple it is. The graphics are really fun to watch and for a flash site put together incredibly well. Props go to Jackpot for including it in there large assortment of casino games.
Fortune Teller Keno
Register for cash today and we'll match your first deposit with a bonus of up to $100. Certified average 95% payback on games.
Play Fortune Teller Keno Now
Seaside Bingo Keno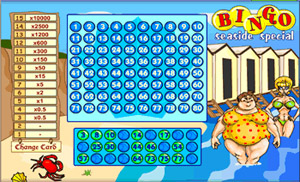 Seaside Bingo Keno is a great flash offering from Jackpot Joy casino. Unlike actual normal Keno you're not allowed to pick your numbers by hand. Instead you can cycle through available bingo cards with pre-selected numbers on them. You can keep switching cards as much as you want until you find something to your liking.
Next you pick your coin size, you can bet 20 cents, 50 cents, 1 dollar, 3 dollars, or 5 dollars at a time. Once you have picked your coin size all there is left to do is click draw balls. Once you do this a wave of water will fill the big board and a little crab will pop up and run across our card marking any of the numbers you had correct.
You can continue to play this same card or go back and switch to a new card. You can also change coin amounts at anytime. Chat is also available, at the top right it will show how many people are connected and are available to talk to. There is a whole bunch of chat options also, including smilies and a garbage bin to clear the entire chat!
Check out Seaside Bingo Keno if you're looking for a fun mix of both bingo and keno, it's the best of both worlds really. All wrapped up in a cute little flash game on the very well known Jackpot Joy site!
Seaside Bingo Keno
Register for cash today and we'll match your first deposit with a bonus of up to $100. Certified average 95% payback on games.
Play Seaside Bingo Keno Now