SkillOnNet Together With Prime Gaming Relocates Gambling Brands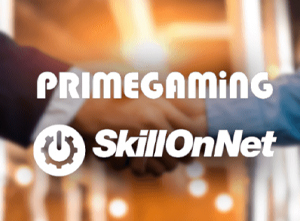 Online casino supplier, SkillOnNet, is reinforcing its partnership with Prime Gaming, making the decision to relocate its gambling brands from Aspire Global.
New Experience for Punters
After a decade of partnership with the Aspire group, the provider says that the company is determined to provide punters another level of an exceptional experience and only that will match their ambitious evolution plans.
Prime Gaming says it's focusing on marketing and investment strategies with multiple countries targeted in the new network's short and long-term projects.
From the Media
Michael Golembo, sales and marketing director at SkillOnNet, added: "We are delighted to take over these two Prime Gaming brands which marks yet another successful B2B migration for us. Our platform and technologies are among the best and we are pleased that Prime Gaming will now have their whole family of popular brands with us. It is migrations and partnerships like these that demonstrates our unrivalled technical solution and turnkey service to operators in markets around the world."
Sarah Holbert at Prime Gaming, said: "Our migration to the SkillOnNet platform comes as we look to take the experience we offer players across all of our brands to the next level, and as we deploy our global expansion plans. To do this for our two very first released leading brands, we need a platform that is strong, stable and one who can deliver the highest player value in today's challenging markets. When you look at the success enjoyed by our other casinos that already use SkillOnNet's technology, we are confident that we have a platform partner that can help us achieve our goals for these two legendary brands as well. I would like to thank Aspire Global for powering our sites for the past ten years, allowing us to establish Prime Gaming as a leading online casino operator. But all good things must come to an end and we look forward to a successful future with SkillOnNet."
About the Brand
In 2005, SkillOnNet was established as an online gambling software development company to supply its products over different jurisdictions via the European market. The brand's content is user friendly, including great design and graphic solutions. Its products are available to cross platforms. As a result, punters can appreciate the content on all devices such as mobile, tablet or desktop. Its platform supports different currencies and languages, and the players have at their disposal regular casino games roulette, blackjack, poker, progressive jackpots, and more than 30 various slots.
Source: "Prime Gaming Migrates its iGaming Brands from Aspire to SkillOnNet". European Gaming. October 8, 2020.
Author: GamesAndCasino