Basketball 2 Week Frenzy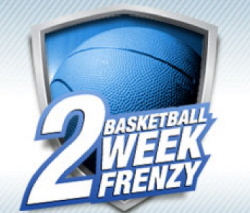 This Fantasy Basketball game called 2 Week Frenzy is a fun and exciting basketball game where you can draft an NBA team from the groups provided and use your fantasy GM skills to accumulate more points than your competitors, to win this two week fantasy game by RotoPlay.
Object: Draft one NBA player from each of the groups presented. Manage your team by utilizing your fantasy skills to gain RotoPlay points. At the end of the two week contest the team with the most points wins the Grand Prize.
Cost: Entry fee and an entry fee for each additional entry. Buy 4 entries and get a 5th entry free. Save with the purchase of a 2 Week Frenzy single season ticket. Save even more with the purchase of a 2 Week Frenzy double season ticket.
Prizes: Grand Prize is $1,000. Cash prizes are also awarded to 2nd – 10th places.
Method of Play: On the Internet, phone and postal mail. There is a Maximum of 500 entries per contest.
Entry Deadline: Near the end of October. Check below periodically for the entry deadline status.
Status: Every two weeks before the deadline to each contest. The Basketball season begins near the end of October. More information on this contest at RotoPlay.
Test your knowledge and skills within the fantasy basketball leagues during the NBA and NCAAB seasons towards receiving cash rewards while playing Fantasy Basketball at RotoPlay.