Baseball Face Off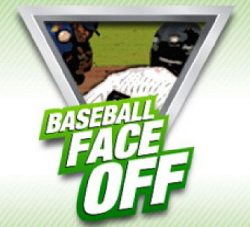 Are you ready for a little one-on-one action? Well, in this fantasy game of Baseball Face Off you can challenge a friend, someone you would like see put in their place, or one of the RotoPlay members. It is all in fun, and some skill involved too, just take down your opponent by gaining the most RotoPlay points and win the prize.
Object: Draft one MLB player from each of the 7 groups presented. Use your skills to choose your players wisely. Each player accumulates RotoPlay points during the contest. If your team accumulates the most RotoPlay points during the contest you win the Prize.
Cost: Entry fee. (Maximum of 5 entries per registered member per contest)
Prizes: The accumulated monies from both members playing the contest, minus a fee.
Method of Play: On the Internet, phone and postal mail.
Entry Deadline: The Friday before the following Tuesday at 7:00 PM EST, throughout the MLB season. Check below periodically for the entry deadline status.
Status: Contest held every Tuesday throughout the MLB season. More information on this contest at RotoPlay.
Get into the latest online fantasy baseball action by using your baseball knowledge and skills in a competition for a grand prize, by playing in one of the Fantasy Baseball games at RotoPlay.