Baseball Elimination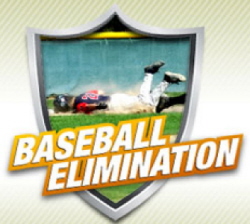 Baseball Elimination is a Clubhouse-type elimination fantasy baseball game by RotoPlay. Do your best with the drafted players of your choice from each of the groups presented. Score more RotoPlay points than your competitors, during this two-week contest, to receive the Grand Prize.
Object: Draft one MLB player from each of the groups presented. Accumulate RotoPlay points from each of your selected players during this two-week contest. You must eliminate one player from your team every day during the contest. Score the most RotoPlay points during the two-week contest and win the Grand Prize.
Cost: Entry fee and an entry fee for each additional entry. Buy 3 entries and receive a 4th entry free for a great savings.
Prizes: Grand Prize is $750. Additional prizes are awarded for 2nd – 15th places.
Method of Play: On the Internet, phone and postal mail. The maximum amount of players per contest is 500.
Entry Deadline: Close to the first part of April. Check below periodically for the entry deadline status.
Status: The contests are played during the MLB season. Two-week contests are played, into September. More information on this contest at RotoPlay.
Get into the latest online fantasy baseball action by using your baseball knowledge and skills in a competition for a grand prize, by playing in one of the Fantasy Baseball games at RotoPlay.