Deuces e Bromista 100 Manos Vídeo Póker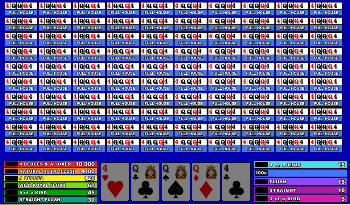 Esta versión Deuces and Joker vídeo póker le permite jugar 100 manos en un juego. Contiene 5 comodines para cada mano o sea que las ganancias están menos altas que en otros juegos de poker video. Los dos son comodines y un Joker esta añadido para que la baraja sea de 53 cartas.
Deuces and Joker vídeo póker: Hay 11 combinaciones ganadoras posibles en este juego:
4 Dos y un Joker – Gana10,000 monedas con la apuesta máxima
Escalera real - Gana 4000 monedas con la apuesta máxima
4 Dos
Escalera con comodines
5 de misma valor
Escalara color
4 de mismo colo
Full
Color
Escalera
Trio
Estará jugando 100 manos o sea que la pantalla podrá parecer un poco atestada. Podrá ver los resultados después de cada mano, en la barra de combinaciones (combinación bar) situada por la derecha y la izquierda abajo de la pantalla. En su mano podrá ver 5 cartas caras arribas (llamada "decisión hand").
Este cartas serán mostradas en la parte inferior del tablero de la cartas. Pide más cartas o sube las apuestas para tener mas posibilidades de más ganancias tomando en cuenta estas 5 cartas e la mesa. Cuando haz clic en "draw" (pedir mas cartas), la "decisión hand" será guardada y 10 manos de 5 cartas serán distribuidas, cada una por parte de una baraja diferente que tiene un Joker.
Cada mano tendrá las cartas que estaban en la "decision hand". Después, las cartas que quedan serán distribuidas para completar cada mano. Cada mano paga la mejor combinación. No olvide que la mejor combinación, 4 dos y un Joker paga solamente con la apuesta máxima.