Aces & Faces 50-Hand Video-Poker
Spielen Aces and Faces 50-hand video-poker jetzt!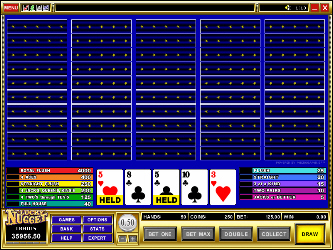 Je mehr in Aces & Faces umso besser, beruhen auf ein Standard Poker-Spiel ohne Wilde karten. In dieser Version spielen Sie 50 Hände!
Die Spielbezahlungen auf Paaren von Buben,Damen, Königen und Assen, zwei Paar, drei einer Art, straight, flush, Full House, vier 2's im Laufe der 10er Jahre, vier Buben durch Könige, Straight Flush, vier Asse und ein Royal Flush.
Die niedrigste Münzbezeichnung ist .01 Cent, und das höchste ist 50 Cent pro Hand, so ist die niedrigste Totalwette .50 cent (01 x 50 hände) und das höchste 125 Euro (50 x 50 händen) ist. Double Up wird sich auf dem ganzen Gewinnen anbiten, abe meistens ignorieren Experten Spieler diese Auswahl.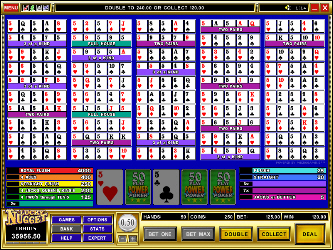 Auf dem Deal stehen Sie auf 5 Karten sichtbar (Es is Entscheidungshand gennant). Das wird auf dem Boden des Karte Tisches gezeigt. Sie halten oder Ausschuss, um die höchste gewinnende Hand von diesen 5 Karten zu machen.
Wenn Sie auf die Attraktion klicken, wird die Entscheidungshand beschattet, und fünfizig zusätzliche Hände von 5 Karten werden verteilt, jede Hand verwendet ein getrenntes Deck, und jede Hand enthält die Karten, die in der Entscheidungshand gehalten wurden Sie werden dann die restlichen Karten verteilt bekommen, um jede Hand von den getrennten Decks zu vollenden.
Jede Hand zahlt die höchste kombination aus, in Aces and Faces 50-hand video-poker. Wenn Sie ein paar von Buben auf der Entscheidungshand haben,dieses ist das selbe wie die anderen Hände. Ausgezahlt wird die höchste kombition aber da Sie ein Paar von Buben halten das eine zahlende Kombition ist,werden Sie eine auszahlung auf alle 50 händer ihrer "Faces" erhalten.