Lady of the Orient Online Slot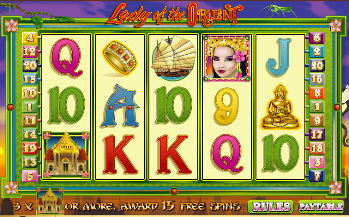 5 Spulen, 20 Bezahlungslinien.
DieLady of the Orient wird in reichen Farben präsentiert und belebte Graphik, die ein östliches Thema verwendet. Es gibt wilde Symbole, Scattersymbole, Bonus-Eigenschaften und befreit Drehungen, die zu gewinnen sind,Lady of the Orient spielend!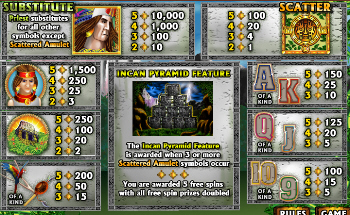 Das wilde Symbol ist die Dame kann alle anderen Symbole aber die Scatter auswechseln. Jedoch erscheint sie nur auf der 2., 3. und 4. Spulen, und das ist die Basis für das Eigenschaft-Spiel. Wenn Sie alle drei Dame-Symbole irgendwo auf den Spulen während einer Drehung bekommen, wird die Dame der Orientbonus-Eigenschaft ausgelöst. Es gibt 3 Runden im Eigenschaft-Spiel; jede Runde werden Sie mit 6 Türen präsentiert. Öffnen Sie jede Tür, um einen Buddha zu offenbaren, der einen Preis-Betrag zeigt. Vergleichen Sie 3 Beträge, um den preis zu gewinnen#
Das Scattersymbol ist der Goldpalast.
2 Scattersymbole zahlen 2x Ihre Wette
3 Scattersymbole zahlen 5x Ihre Wette
4 Scattersymbole zahlen 15x Ihre Wette
5 Scattersymbole zahlen 100x Ihre Wette.
3 Scattersymbole irgendwo auf den Haspeln werden die freie Drehungseigenschaft auslösen. 15 freie Drehungen werden zuerkannt, und das ganze Gewinnen wird verdreifacht. Die freie Drehungseigenschaft kann auch wiederausgelöst werden, während in der freien Drehungsweise und Sie die Dame der Orienteigenschaft während in der freien Drehungsweise ebenso auslösen können.
Lady of the Orient bietet viele Möglichkeiten für große Auszahlungen an. Sie können viele Münzen spielend Lady of the Orient gewinnen, wenn Glück mit Ihnen ist. Mir ist immer gesagt worden, dass, wenn Sie einen Bauch eines Buddha reiben, es Ihnen Glück bringen wird; mit so vielem Buddha, wie können Sie schief gehen?