Good To Go Online Slots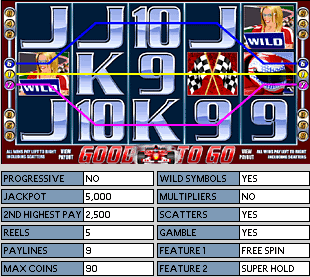 Good to Go - 5 Spulen, 9 Bezahlungen mit dem Bonus runden. Münzgröße ordnet von .25 Cent bis zu 1.00 Euro an.
Einige Kasinos haben den minimalen Münzbetrag-Satz zu ebenso niedrig wie ein Penny per Linie. Sie können auch den Betrag von Münzen pro Bezahlungslinie, von 1 bis zu 5 Münzen per Linie regulieren. Sie können von 1 bis 9 Linien spielen, aber sein sich sicher alle 9 Linien zu spielen.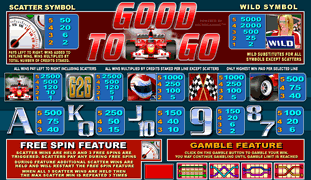 Das Pit Girl-Symbol ist ein wilder für alle Symbole außer Scatters.
Schlagen Sie 5 Pit Girl-Symbole auf eine Bezahlunglinie, um den Hauptgewinn von 5,000.00 Euro auf Wette von 9.00Euro zu gewinnen!!!!
Zwei oder mehr Tachometer-Symbole gezeigt angrenzend auf den Spulen, von der Spulen 1, aktivieren das Freie Drehungsbonus-Spiel.
Im Bonus-Spiel bekommen Sie 3 freie Drehungen, die Tachometer-Symbole werden gehalten und werden für jede Drehung bezahlt. Wenn irgendwelche Tachometer-Symbole irgendwo auf den Spulen während Freier Drehungen gestreut werden, werden sie gehalten, zu Ihrer Ausschüttung beitragend und weitere 3 freie Drehungen hinzufügend
Zum Beispiel, auf einer Wette von 9.00 $ würde jedes Tachometer Ihnen bezahlen:
2 Tachometer = 18.00 Euro per Drehung
3 Tachometer = 54.00 Euro
4 Tachometer = 180.00 Euro
5 Tachometer = 450.00 Euro
So schlägt 2 Tachometer dann während freier Drehungen, einen anderen, dann ein anderer, und ein anderer schlagen, und sehen Sie wie sich das Geld schnell verdoppelt!!!