European Roulette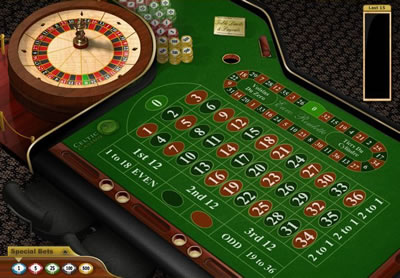 European Roulette, using Visionary iGaming software, has 37 numbers and you can use the single zero to your advantage when you place your bets on the table numbers, at Celtic Casino.
European online roulette will make you feel like you're right where the action is, with its constant wheel spin, crisp ball animations, and special betting options.
When wagering in this European Roulette Game, the following table limits are provided to give online roulette players more wagering options:
Table Limits: .10 to 60.00 Credits
Table Limits: 1.00 to 100.00 Credits
Table Limits: 5.00 to 250.00 Credits
Table Limits: 15.00 to 500.00 Credits
To play, select which table wagers fits your playing style and then proceed to the game.
European Roulette makes for a pretty interesting online guessing game, with 46 bets to choose from, and each with their own odds and payouts. Luckily this game, as well as every game featured at Celtic Casino, comes with an extensive help menu, which explains every inside, outside, neighborhood and special roulette bet.
Play European online roulette, and if you're looking to amp up your online roulette game, be sure to check out Celtic Casino's growing selection of roulette offerings; including the live dealer version which features live video feeds, attractive croupiers, and two-way conversations.