Vegas Technologies Craps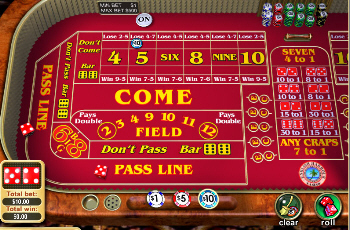 If you aren't sure how to play craps, you may find going to a real Craps table pretty intimidating. Pass or Don't Pass. Come or Don't Come. What sounds indecisive is actually a very clear betting strategy, and one that doesn't take long to master (we promise!). A great way to learn how to play Craps is by playing online. Vegas Technology, formally OddsOn, has created a game that mirrors the physical game of Craps—you'll just have to imagine the crowd of excited players.
Bets per play range from $1 to $99, with a maximum table limit of $500. Vegas Technology Craps is available both in download and instant play versions.
Vegas Technology Craps Features
You won't find anything at a Vegas Technology Craps table that you won't find in Vegas—therefore you won't see anything that tracks the history of dice rolls or a button that allows you to wager exactly what you did during the last game. You will, however, be given some level of control over what sounds you'd like to hear during your play and how loud you would like to hear them, as well as whether or not to animate the roll.
While some may be disappointed with the lack of a "rebet" option, others will find the level of game customization extremely helpful. The graphics themselves actual set Vegas Technology apart due to their clarity; the shot of the dice above the "Total Bet"/"Total Win" screen is a nice one-stop-shop for all the details you really need during the course of the game.
Vegas Tech Craps Odds
When playing the Field, the 2 and the 12 pay double.
While the "Seven" bet and the "Any Craps" bet feature pretty standard odds (4 to 1 and 7 to 1 respectively), Vegas Technology has weighted its hard threes and hard fours with a 10 to 1 payout (versus the more standard 9 to 1). The same can be said of its hard fives and hard twos, which also pay out slightly better at 8 to 1 (instead of the typical 7 to 1).
Every online casino software platform offers something a little different, and Vegas Technology's strongest feature is its crisp, easy-to-read layout. For more information regarding how to play craps and how to win at craps, read our online tutorials. Soon you'll be laying the odds with the best of them!