Real Time Gaming Craps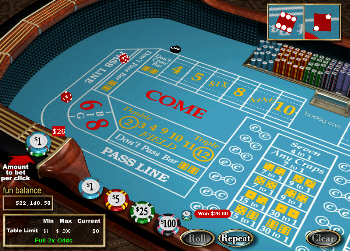 RealTime Gaming has been a casino software platform since 1999 and has nearly 100 casinos under its belt. As each one is run independently from the other, expect a few differences in how the craps table looks and treats your bet. For instance, some of the new RTG casinos offer craps with a Triple 12 on the Field Bet while others only offer you Double. RTG Casinos are US player friendly.
RealTime Gaming Craps features a very high $1000 maximum table limit, so it will be sure to accommodate even the most extravagant high roller. Individual bets will range from $1 to $100, however, so you're your chips accordingly. Chip sizes are in $1, $5, $25, and $100 increments.
RealTime Gaming Craps Features
On top of offering fluid animations, RealTime Gaming also features several other player-friendly options and perks.
Repeat betting option.
Unique, true-to-life perspective table angle.
By hovering your mouse over the various areas, not only will you find out what you may have currently staked in a particular are, it will also pop up what areas available to wager in.
The upper-right hand corner features a close-up shot of the dice as they go through their roll.
Players have a full screen option available if you really want to put your nose into the play—just know it's a magnified version of the smaller screen. Some elements will translate as fuzzy or pixilated.
You can also control whether or not you hear sound, whether or not you want to hear the Dealer's voice, and, if so, how loud you want either of them to be.
There is also an option for "Card Speed", which doesn't seem to have any bearing on the dice (or, in this case, virtual gravity).
You may find it as a perk that you are never the Shooter. Someone else wears that stressor in RTG's craps (I like to pretend it's a pitching machine made for dice, though I can't tell you why I find that comforting).
RTG Craps Odds
Make sure to check the Field bets before you make your wager. Some RTG casinos will offer double your wager on the 2 and 12, and some will push a triple payout on the 12. This isn't a huge concern during your wagering, but it will come up when you're counting your payout.
Most RTG Casinos offer 3x odds, but make sure to check—there may be a few which only offer full double odds. While the 3x odds decrease the house edge, you're also increasing the amount of risk with a larger wager. I'd worry less about this and more about summoning Lady Luck to the Pass Line.
We have several favorite RTG Casinos that not only offer a good game of craps, but also a healthy serving of pain-free cash-outs and a generous side of solid customer care. Play craps at one of the recommended casinos below!