Baccarat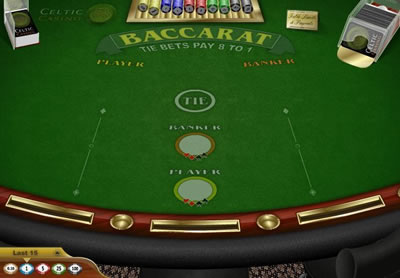 In Baccarat, at Celtic Casino, you can bet on the Banker or the Player in an online poker card game of skill, chance, strategy, and basic math. Enjoy crisp graphics, glitch-free performance, and the chance to win with table limits as high as 500.00 credits.
Baccarat Online Wagering
To wager in Baccarat online at Celtic Casino, you'll first need to pick a range of table limits that fits your budget and style. This will determine the size of chips available to you and the maximum (and minimum) bets you must place to play. Minimum table limit is 1.00 credit in the first tier, and the third tier maximum table limit is 500.00 credits.
If you are looking for a history of baccarat or a complete list of game rules, Celtic Casino details both in its game menu.
The Celtic Casino online Baccarat game features adjustable dealer audio and messaging, a recent history scorecard, rebetting, and last chip memory.
In this game's online Baccarat pay table, the Banker receives a 5% commission on any bets won. Player bets pay 1:1 and the Tie bet pays 8:1. If you happen to win a Tie bet while also placing a bet on either Banker or Player, your Tie bet is won and your other bets will be returned to you.
Play Baccarat for free or real money and play it for fun!